Show off vibrant and elegant floral arrangements in our array of luxury vases. Our designer vases come in many different styles for every kind of taste. From small bud vases to larger bouquet vases, we have the vase that fits your home.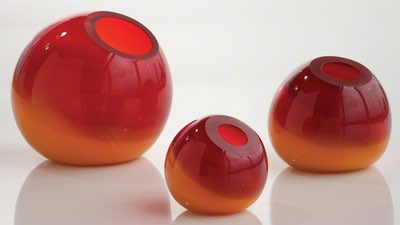 From glass to ceramics, our vases offer you the perfect finishing touch to your decor style. Vases are perfect to extend the beauty of its contents. Today, the shapes of vases have evolved from conventional to modern designs and shapes.
So whether you're looking for a simple vase to display a gorgeous bouquet of orchids or a more elaborate vase to place a single lily, you will never have a problem finding the right one. Vases are not only used to display flowers, they are also a piece of art themselves. The ancient Greeks used vases to depict certain scenes, and the same can be used in today's culture. A vase can give your home the wow factor. The vase itself is important, but where you place it is also an important element. Large vases in corners or on tables with a high ceiling can create a dramatic effect, regardless of if it is filled or not. A smaller vase used to decorate shelving or mantels can add height when matched with smaller accessories and photos. Adding fresh or fake flowers will add color and brightness to your room. When a vase is decorative enough by itself, then it can be placed without flowers to decorate any type of space. Our vases give you a dimensional element to your home that catches eyes.
You can be as creative with your vase as you like. Stop by Ibraheems Rugs and Furnishings Boutique today to take a look at our elegant vases for inspiration.