Ibraheems Rugs and Furnishings Boutique features some of the most delicate, dignified and luxurious table lamps created by the finest designers. Our lamps can add an unexpected element to any room that will accent the space around it.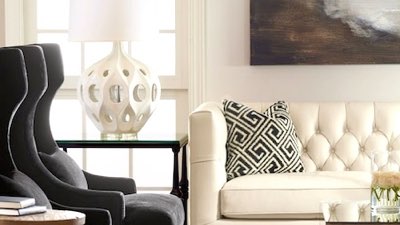 Both your nightstand and side table deserve to be dressed with the best. Having a beautiful table lamp will complement the look of your nightstand or side table. At Ibraheems Rugs and Furnishings Boutique, you have reached the right place for chic and elegant lamp designs.
Our collection is filled with beautiful table lamps for any style. Let your lamp make a statement. Whether it's on an end table, bedroom chest, nightstand or entry table, adding a table lamp can add presence to any room. It will illuminate the room when you are sitting down reading, watching a movie or enjoying time with your family. Ibraheems features a selection of the finest designer table lamps in modern and traditional styles. Our lamps blend both fashion and art in fascinating and glamorous ways. Each lamp is created with its own distinct pattern, which makes each one unique and an incomparable work of art. Our table lamps are classic and elegant and are built with future generations in mind. Their designs are timeless and will always be admired.
Dress up your table. Don't miss our unique table lamp selection, visit Ibraheems Rugs and Furnishings Boutique to experience our glamorous selection of table lamps.